English 4900 - Internship in Writing and Editing
Submitted by

Anonymous (not verified)

on Sat, 03/27/2021 - 1:00pm
The Internship Process
As a student in the English Department or Rhetoric & Writing Studies program, you are eligible to take ENG 4900: Internship in Writing and Editing for a minimum of three credits and a maximum of six credits. To earn three credits, you will complete 120 hours over the course of the semester (approximately 10 hours per week). If you choose to earn the maximum of six credits, you have the option to complete 240 hours at one site or 120 hours at two different sites totaling 240 hours, though one site is recommended. With six credits, you also waive a 3000-level course. For those in the Rhetoric and Writing Studies program with Professional and Technical Writing concentrations, an internship is required. For all others the internship is optional but recommended. Internships are available every semester (fall, spring, and summer) and we recommend you complete yours no earlier than the second semester of your junior year or any semester your senior year.
As an intern, you will gain valuable hands-on writing and editing experience working alongside seasoned professionals.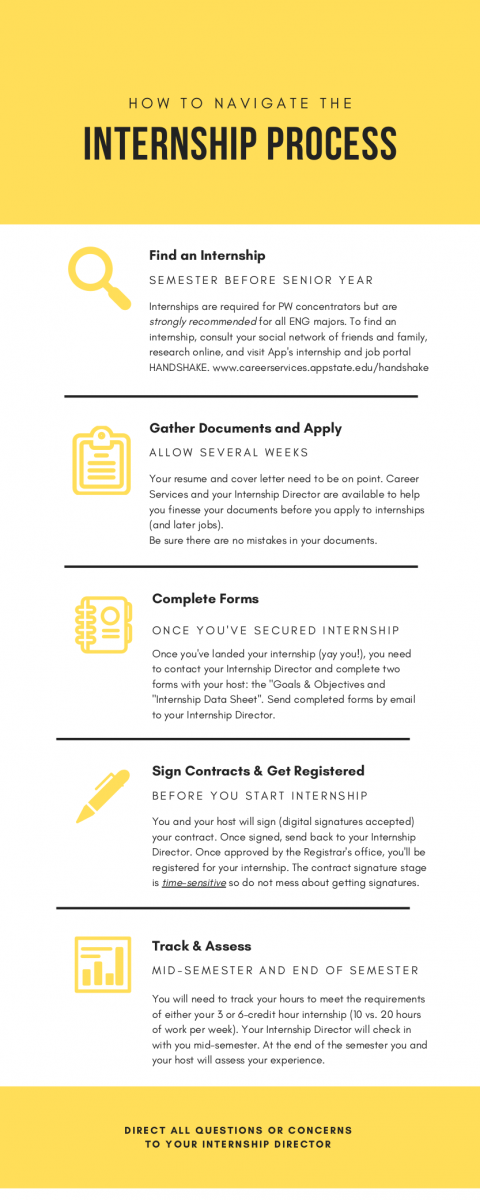 For this reason, it is important that you have some experience in the area of focus and some portfolio samples to demonstrate competency of core rhetorical, editorial, or digital skills even if you have not had the chance to fit RWS courses into your elective schedule. If you're an RWS major or PW concentrator, then we recommend that you take at least the one year of in-major coursework and have a digital portfolio to demonstrate competencies before you apply for an internship.
The Application Process
Securing an internship is not automatic. You will apply for one just as you would apply for a job. Both job and internship prospecting takes time, and you will need to see the Director of Internships the semester prior to when you wish to intern so the necessary paperwork can be compelted ontime and a site check can occur. In your first visit with the Internship Director, you will identify possible internship opportunities, either those currently available or those you develop to meet your specific professional writing goals, and set up a course of action for the following semester. To get started identifying local, regional, and national internships available to students, visit HANDSHAKE.
The Director and ASU have cultivated working relationships with a variety of local, regional, and international businesses, agencies, nonprofit organizations, and on-campus units, all of which are eager and enthisuastic about working with our interns and most importantly, are vetted for your safety and security. Some of our students have served internships at the following sites:
Can I Intern Over the Summer?
Internship opportunities are not limited to the local Boone/Watauga County area, however. If you prefer a summer internship, you may choose to intern at an organization in your hometown or another city other than Boone or even another country. The Internship Director will speak with all potential site supervisors to ensure that they agree to the terms that protect student safety and ensure student welfare and learning outcomes.
NOTE: Enrollment in this course requires that you prepare and submit appropriate paperwork, including an internship contract and a goals and objectives document, which you will develop in consultation with the Director. You cannot enroll in this course on your own. Moreover, internship credit cannot be earned retroactively; you must be enrolled and have an approved contract with your site agency prior to the start of your internship.
For more information, please contact the Director of Internships, Sarah-Beth Hopton (hoptonsb@appstate.edu).
Sample Goals & Objectives Statement